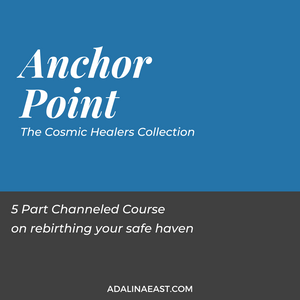 Listen to Adalina introduce the course:

*Recorded Live 

Where is your anchor? What brings you back to your energetic home when nothing else will?

The Galactic Beings that I work with, the Pleiadians, Arcturians, those of Orion, the Archangels and more desire for all of us to find our way back to our spiritual home. For us to know our zero point, that place of neutral where we feel we can relax enough to make decisions, learn and grow as humans and souls.
This post-COVID world offers many suggestions, but what the Pleiadians have been showing me is that these commodified messages of existence just aren't working for some of us. 

Yes, it is so nice to be out and about again but how to recover from all that we have been through? Even if life has stayed mostly the same for some of us, those around us have changed, shifted and taken on new personas that may be unfamiliar to us.

We may be unfamiliar to us.

In this course, the Guides will journey back with us to our spiritual home. We will discover what hope, beauty and peace lies for us there, and how to tap back into this place when things feel overwhelming. We will learn who we truly are and how to express this soul being through our physical beings in this lifetime.

Each session contains a Transformational Healing™️ process, as always, and will bring greater understanding about how to recover as an individual soul, as well as how our collective can heal together.
This channeled course includes the following modules:
Your galactic grid

Alchemizing your anchor

Rebirthing your soul's divine consciousness

Healing your point of astral origin

Re-experiencing your spiritual home
Join us for a beautiful journey back to your soul's home.