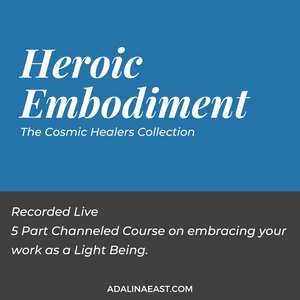 *Recorded Live
Becoming our own hero is one of the highest desires of Source for us in this lifetime.
In this course, we will use cosmic energy around us to burst forward, break down walls and become our own heroes. Led by Archangel Michael, the great healer, the Pleiadians, and the Divine Feminine Ascended Masters such as Mary Magdalene and Kuan Yin, the goddess of compassion, we will overcome all that holds us back to recognize ourselves as the Light Leaders and Lightworkers that we truly are.
Recorded live, feel the energy of the group as we come together to recover from feelings about the fall of our heroes and begin to recognize the hero that lies within each of us. This course is intended to help you build spiritual strength, confidence in your ability to use the energy around you, and working with your Spirit Guides to discover your inner hero.
The course is broken up into five, succinct sessions with Transformational Healing ™ processes on a specific theme in each of them:
Session 1: Overcoming Limitations to your Heroism
Session 2: The Fragrant Mountain Path to your Safe Place
Session 3: Resolving Antiquated Beliefs
Session 4: Healing the Wounds of the Divine Feminine
Session 5: Connecting into your Inner Hero
This five-part course is not for beginners. If you are interested in discovering more about your spiritual gifts, I recommend starting with
Divine Guiding Light
,
Elementals
or
The Practical Channel
.