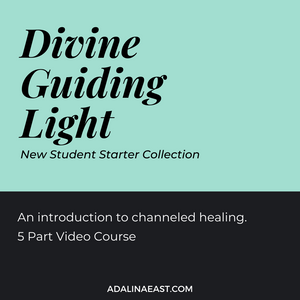 *Recorded Live
This is Adalina's first channeled course, recorded in 2020! This is one of our best-sellers.
Work directly with your Spirit Guides in this five-part channeled course, designed for healers, channels, and all those ready to hear from their Guides. Our goal is to raise the vibration of the human collective.
With the direction of the Mary Magdalene collective, Archangel Michael, the Pleiadians, the Arcturians, and Lemurians, we will join together and move forward to create change in this world.
The course is broken up into five, succinct sessions with Transformational Healing ™ processes on a specific theme in each of them:
Session 1: Resolving Resistance to your Higher Self
Session 2: Healing Past Lives from our Higher Selves
Session 3: Clearing Blocks to your Highest Self Communication
Session 4: Creating Deservingness and Manifestation through your Higher Self
Session 5: Allowing Forgiveness through your Higher Self
Set aside about an hour for each transmission. The Guides move quickly through Adalina and this is designed to be an energy transmission. You needn't focus on the words coming through, but focus on the energy within you responding to the energy from the Guides.

After each session, drink plenty of water and remember to rest. Energy moves through the soul most quickly, but the human body can take a bit of time to adjust. It is recommended that you only participate in one session per day to allow your body to move with you through this beautiful healing process.